Atlus West is coming to Anime Expo 2022! Whether you're at the show in person July 1-4th, or looking to score some AX exclusives online at Shop Atlus, we've got all the info you'll need to make the most of your weekend!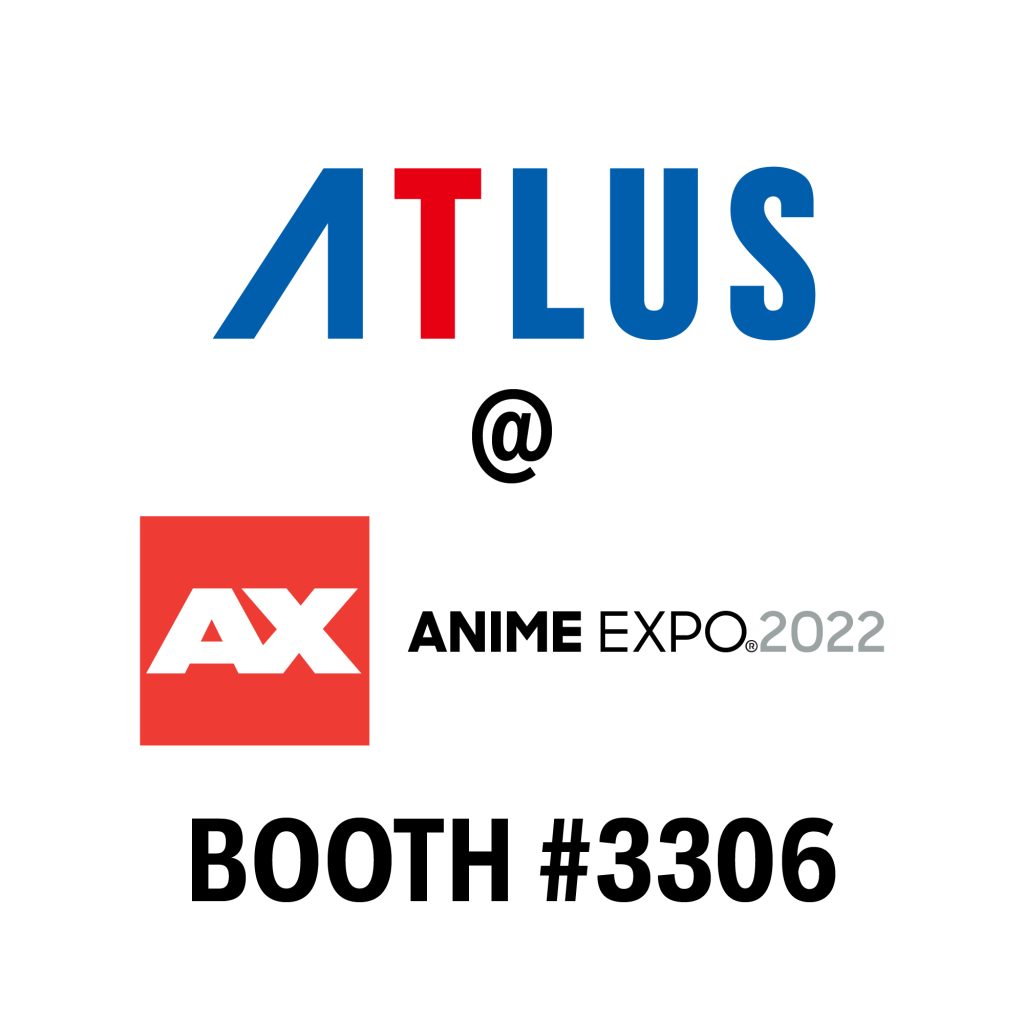 Event Information
Event Dates: July 1-4, 2022
Location: Los Angeles Convention Center
Booth Location: Exhibit Hall ATLUS/SEGA Booth #3306
Anime Expo 2022 COVID-19 Policy
Exclusive Merchandise
Persona 25th, Shin Megami Tensei V, 13 Sentinels: Aegis Rim… Oh my! This year, we've got a whole new lineup of amazing merchandise available at our booth, and also worldwide through Shop Atlus! These products will only be available from July 1-4, so don't miss out!
If you're attending the show, you can make an appointment to visit our showroom in person, or make an online order for pickup here. For Shop Atlus information, keep reading!
Booth orders over $100 will also receive an exclusive Persona 25th Anniversary Duffel Bag while supplies last!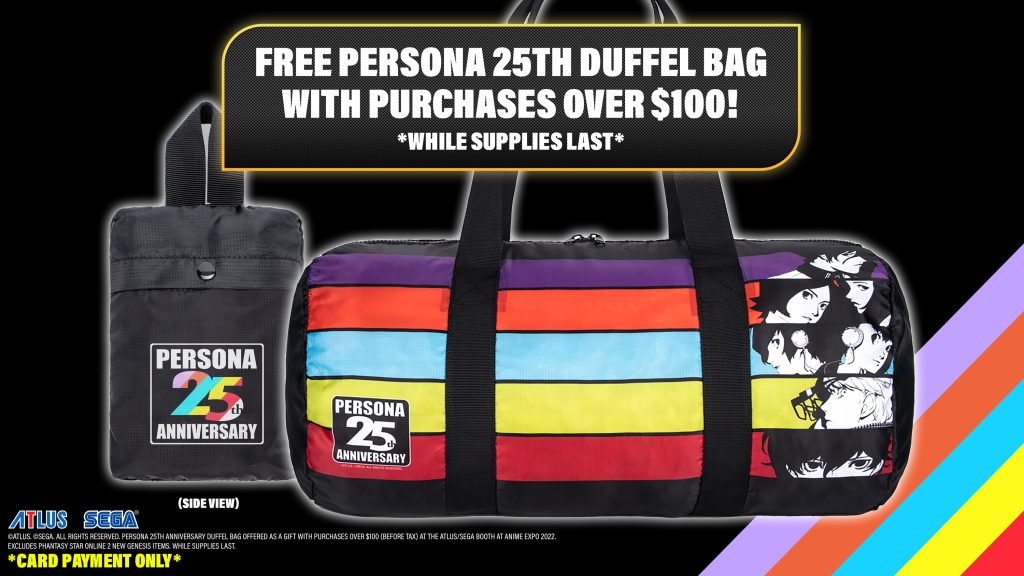 *For the health and convenience of attendees and staff, only card payment will be accepted.  
In addition to our booth items, Shop Atlus also has four online exclusive items! These items are ONLY available on Shop Atlus, and are not available at the booth. View the collection here!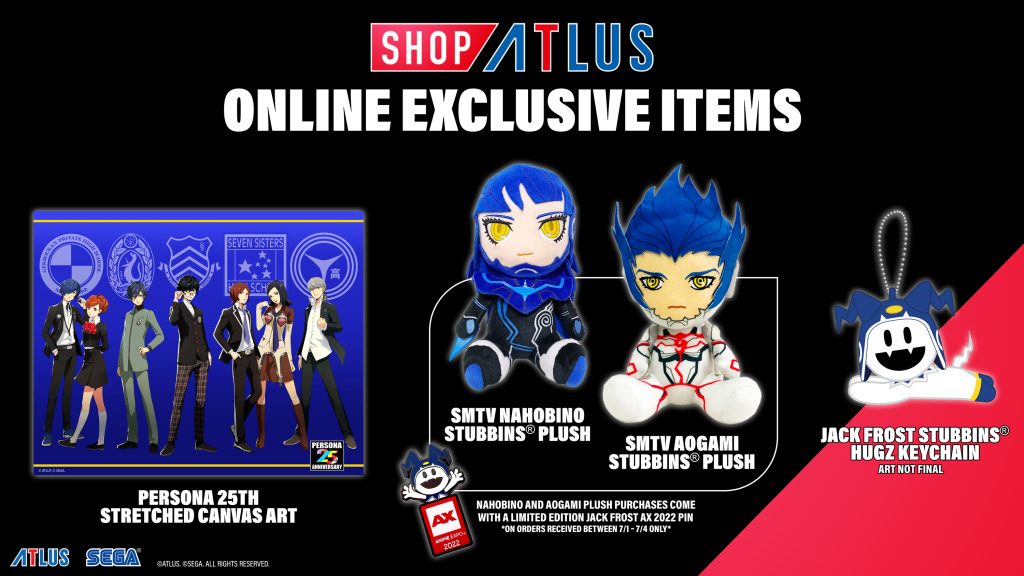 *Shop Atlus orders will be fulfilled through your orders selected shipping method, and are not available for pickup at the Atlus booth.
Persona 25th Anniversary Midnight Masquerade 
Celebrate the 25th Anniversary of Persona at the Persona 25th Midnight Masquerade, held at Lounge 21 on June 2!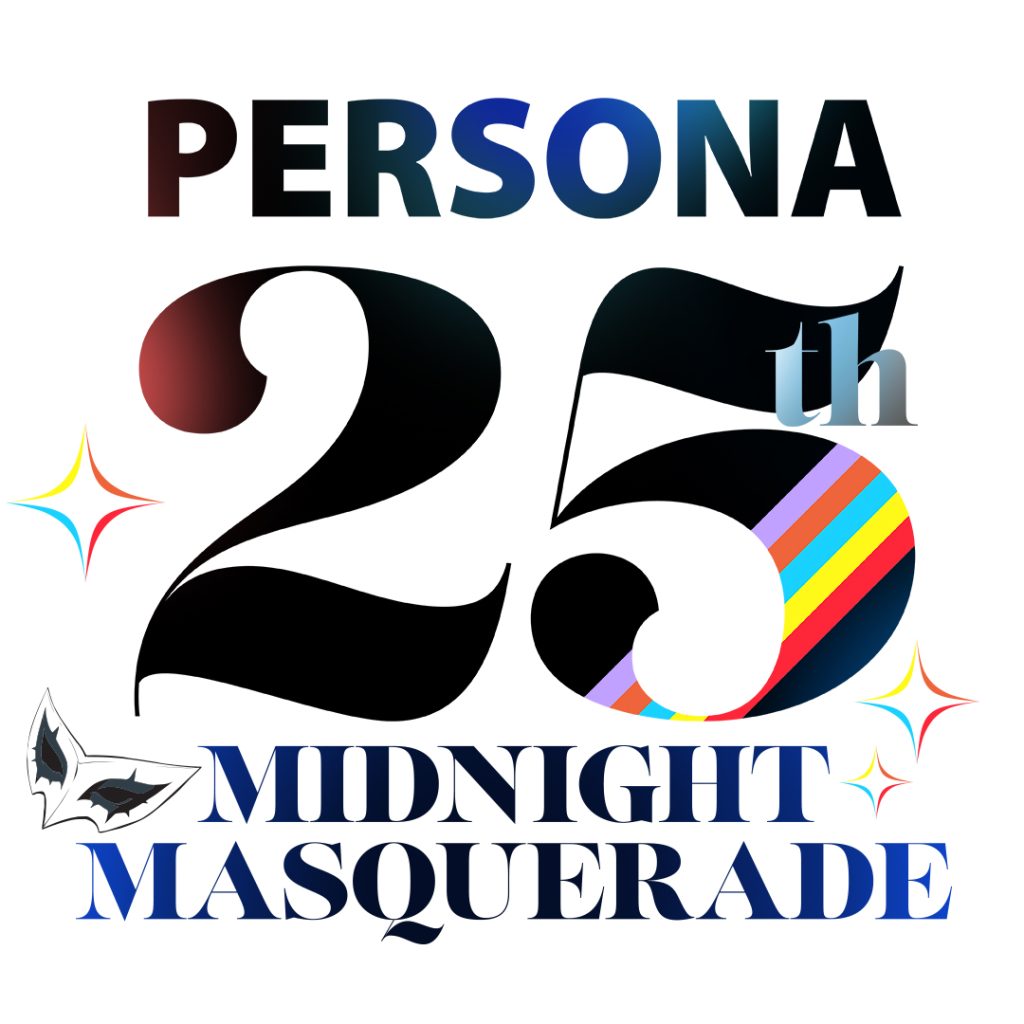 Get ready to dance all night with sets inspired by and featuring music from the Persona series, spun by DJs Hingsing, SAMMI SOSA, and Alex Kade! Or relax in style with our Velvet Room photo opportunity and a special themed drink menu.
Doors open at 8PM PT. Event ends at 2AM PT.
This is a free event open to all 21+ Anime Expo attendees with a valid badge (4-day or Saturday). Anime Expo Covid-19 policies will be enforced at the event.
ATLUS x Shake Ramen Food Trucks
Shake up your lunch plans with two ATLUS-themed Food Trucks at Anime Expo!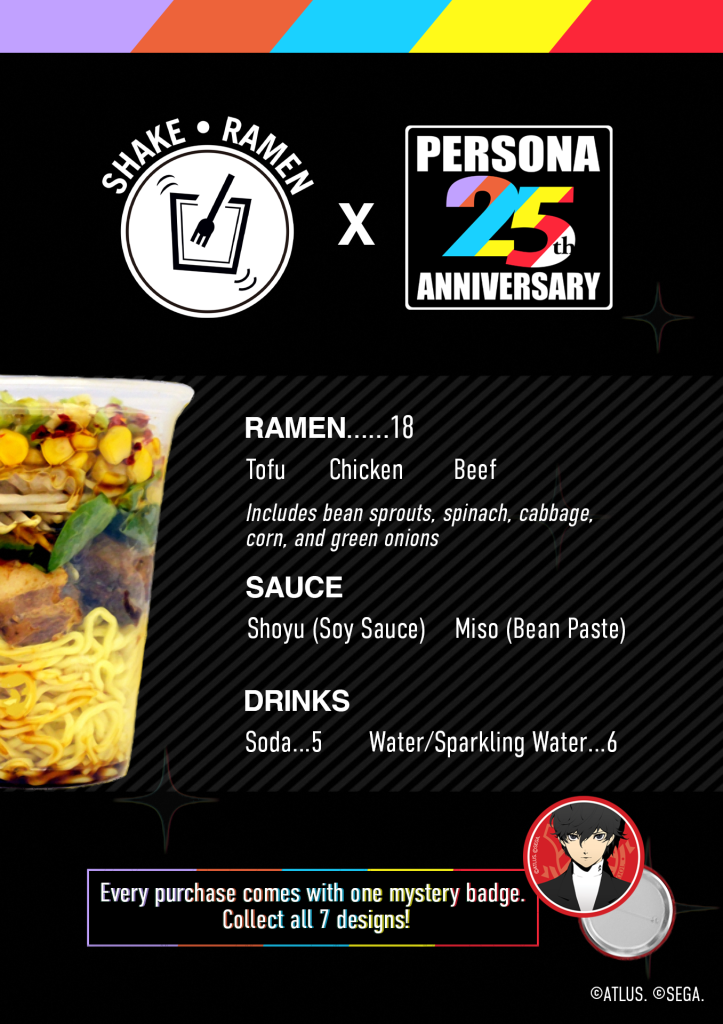 Stop by Shake Ramen and Shake Yaki and receive one mystery can badge with your order! Collect all seven Persona series protagonists at Shake Ramen, and six Soul Hackers 2 characters at Shake Yaki!
Trucks will be located near West Hall B.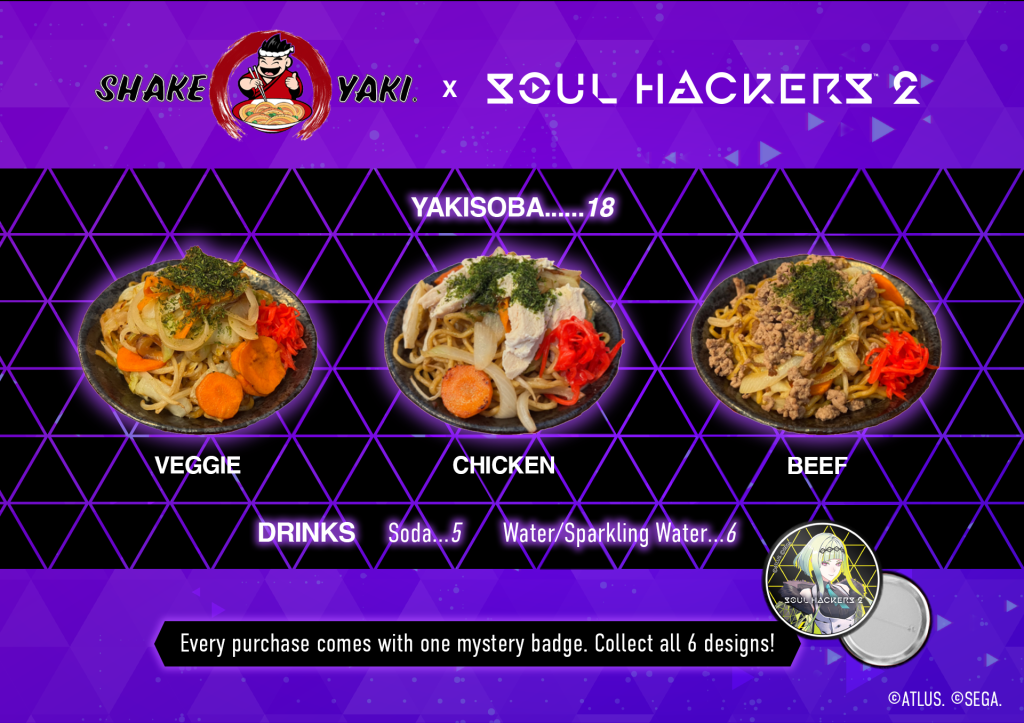 Persona 5 x Nothing Gold
Rank up your Charm with Nothing Gold's exclusive Persona 5 collection!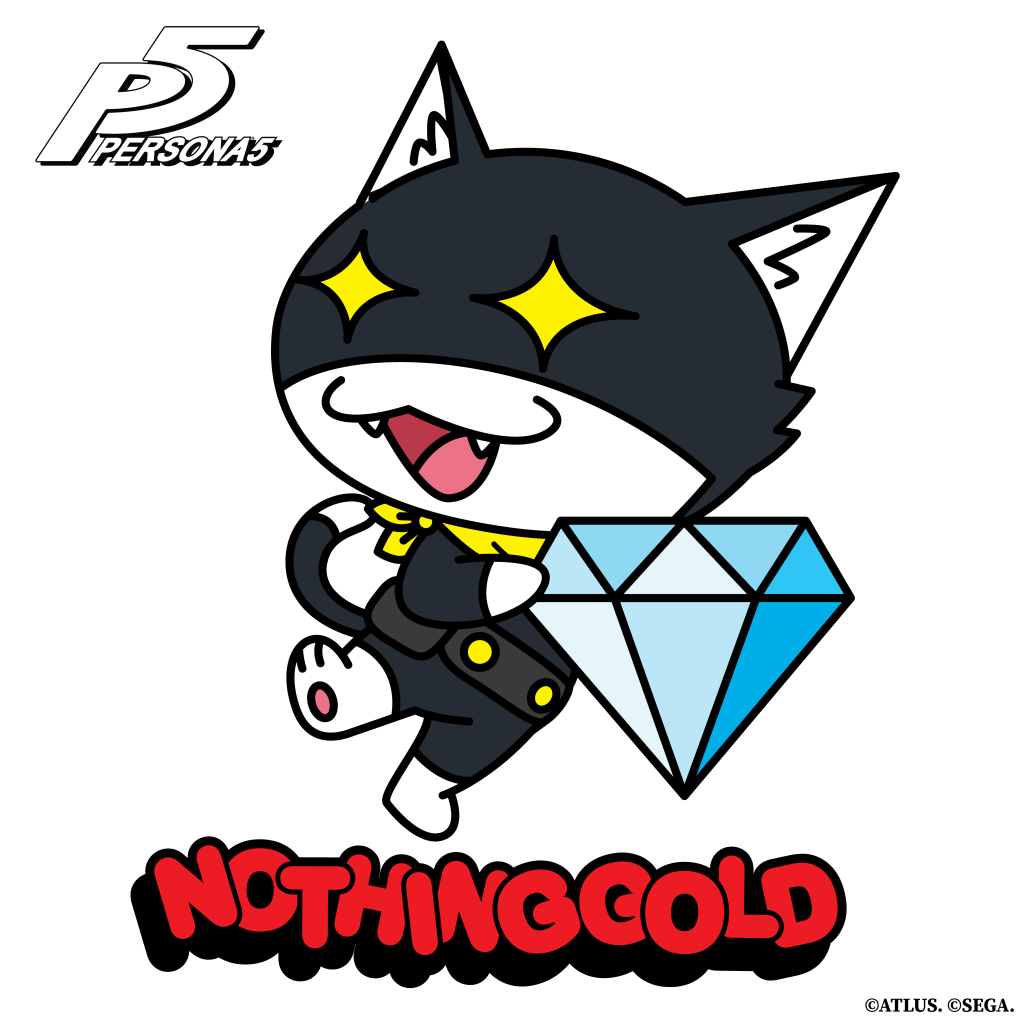 Located in Exhibit Hall Booth 4916/4917
Persona 5 Royal x Wick and Skull
Light the wicks of rebellion with new Joker and Ann-inspired candles from Wick and Skull!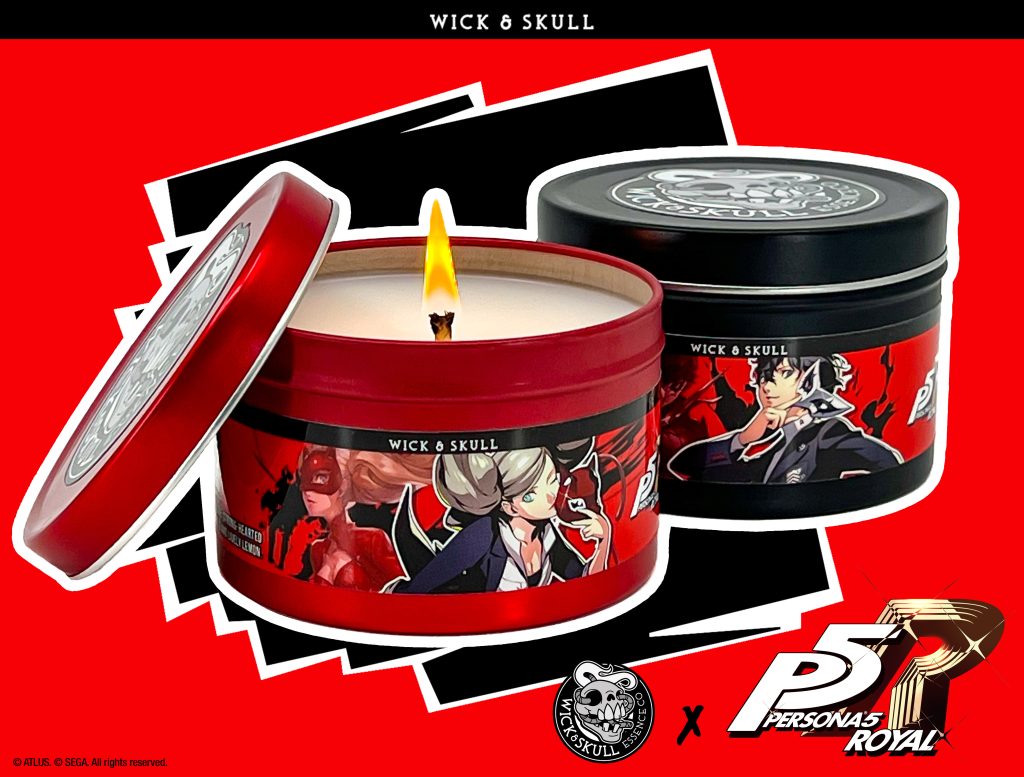 Located in Exhibit Hall Booth 1917