Anime Expo 2023 is right around the corner! Here's what you can look forward to at ATLUS/SEGA Booth #2206 on July 1-4, 2023!
Keep your eyes peeled for more exciting AX activities being announced over the next few weeks!
New ATLUS Merchandise!
Brand new items from Shin Megami Tensei 30th Anniversary and the Persona series will be available for sale at the ATLUS/SEGA booth! Spend $120 before tax and receive a Shin Megami Tensei 30th Anniversary fanny pack while supplies last.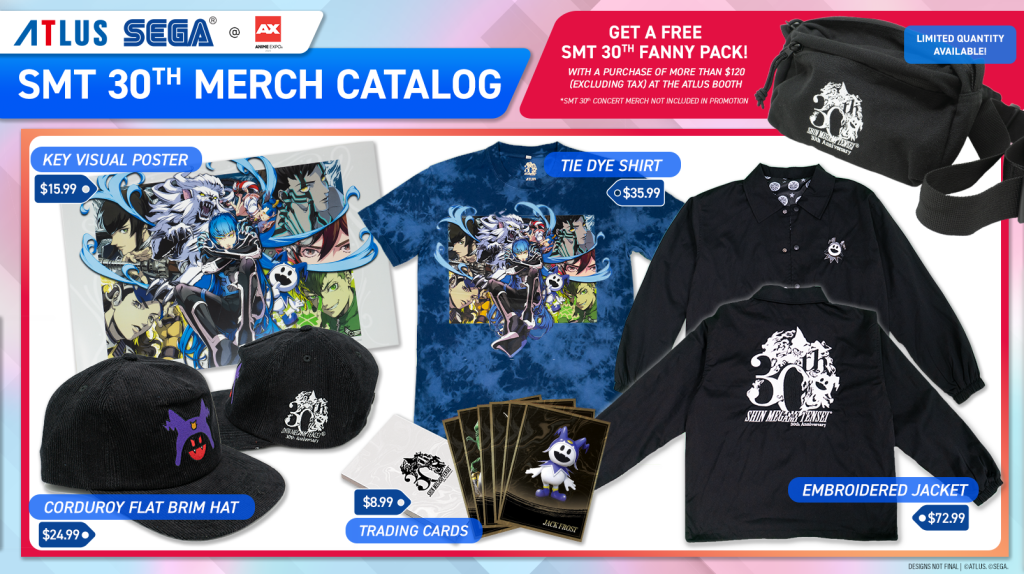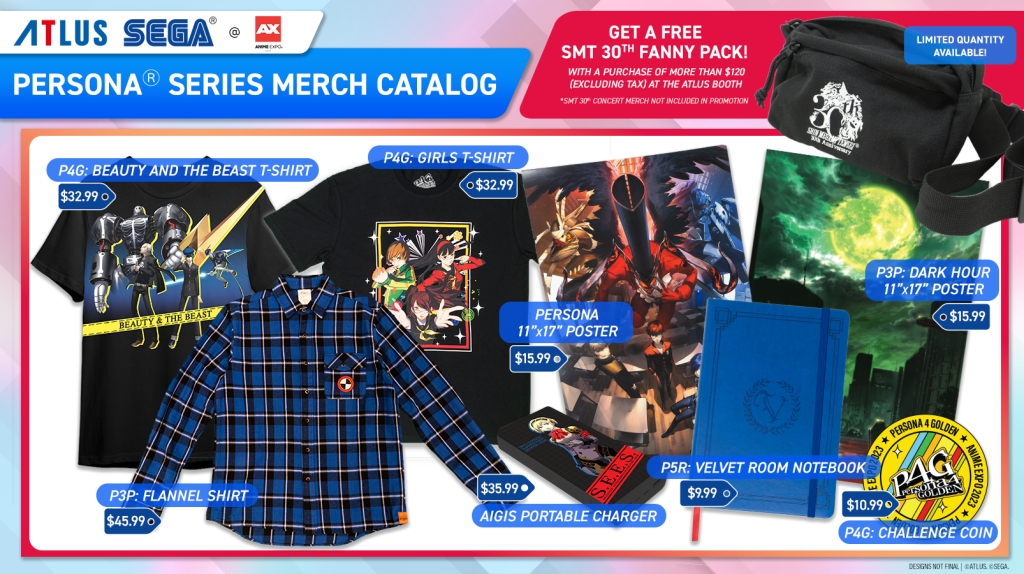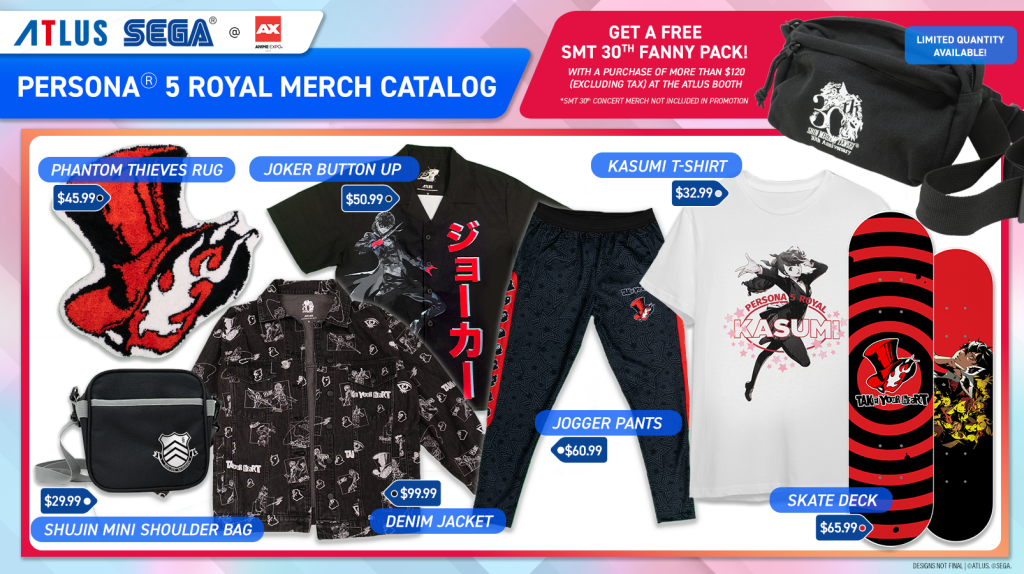 Non-booth exclusive products will also be available at Shop ATLUS beginning on 7/1!
*Note: Shin Megami Tensei 30th Anniversary fanny pack offer does not apply to Shop Atlus or Concert Venue purchases.
Shin Megami Tensei 30th Live: Band of Shadows
We're kicking off Anime Expo 2023 with a concert event of apocalyptic proportions! Special Guests Christian La Monte (Voice of Demi-fiend), Casey Mongilo (Voice of Nahobino) and Daman Mills (Voice of Aogami) host the first-ever Shin Megami Tensei concert event in the West!
Tickets are still available, so don't miss out! Get your ticket now!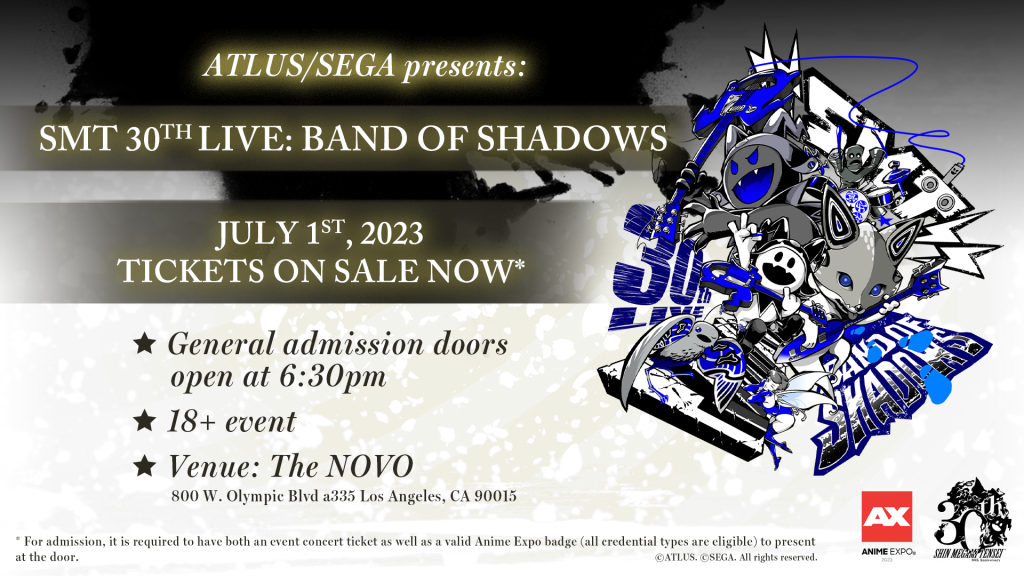 Join us for a special pre-show reception for a meet and greet with the VAs, early access to concert-exclusive merchandise, and more! PLUS the first 100 pre-show reception attendees to enter The Novo will also receive their very own Nahobino plushie!
A valid Anime Expo 2023 badge will be required for concert entry. 18+ Event.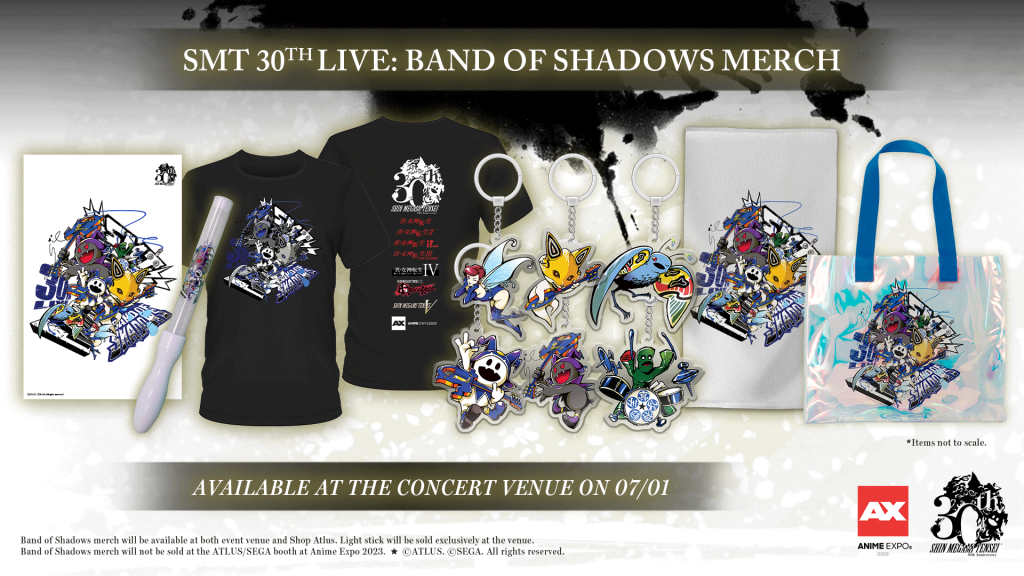 Persona 5 Tactica at Anime Expo
Join us for our official Persona 5 Tactica Voice Actor Panel on July 3rd at 10AM in Petree Hall!
Guests include:
Matt Mercer (voice of Yusuke)
Cherami Leigh (voice of Makoto)
Xanthe Huynh (voice of Haru)
Leeanna Albanese (voice of Erina)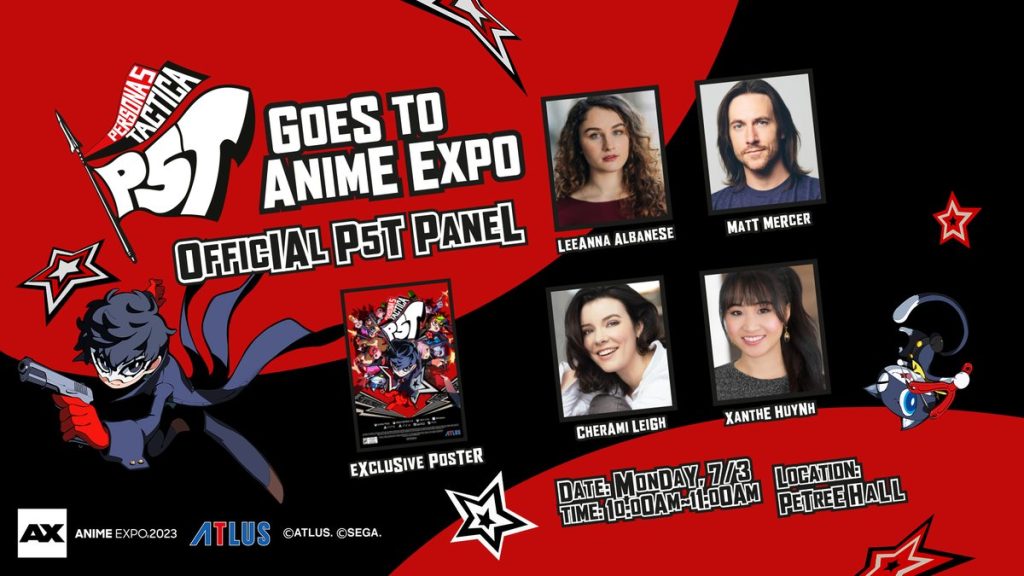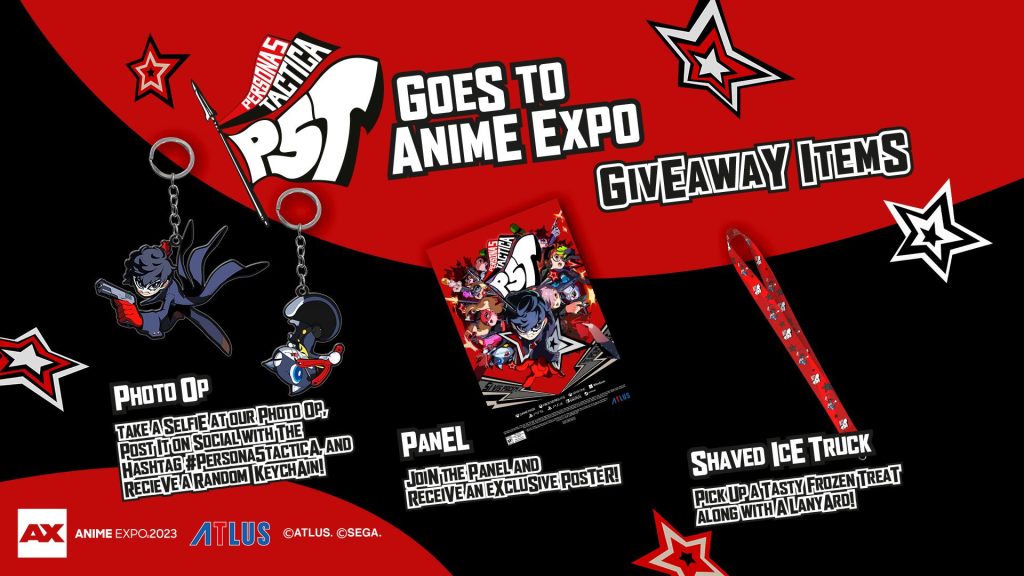 Don't miss out on the Persona 5 Tactica goodies you can grab this weekend!
Photo Op will be available throughout the weekend at the ATLUS/SEGA booth #2206. Panel will be located at Petree Hall on Monday, July 3rd from 10-11am. Our shaved ice truck, Fluff Ice, will be located on-site on the 2nd floor outside the convention center from 10am-6pm every day of the convention. While supplies last.
Persona 3 Reload at Anime Expo
Join us for the official Persona 3 Reload Panel, featuring 6 of our talented English voice actors, on July 3rd at 7PM in Petree Hall!
Aleks Le (voice of Protagonist)
Zeno Robinson (voice of Junpei)
Heather Gonzalez (voice of Yukari)
Alejandro Saab (voice of Akihiko)
Allegra Clark (voice of Mitsuru)
Suzie Yeung (voice of Fuuka)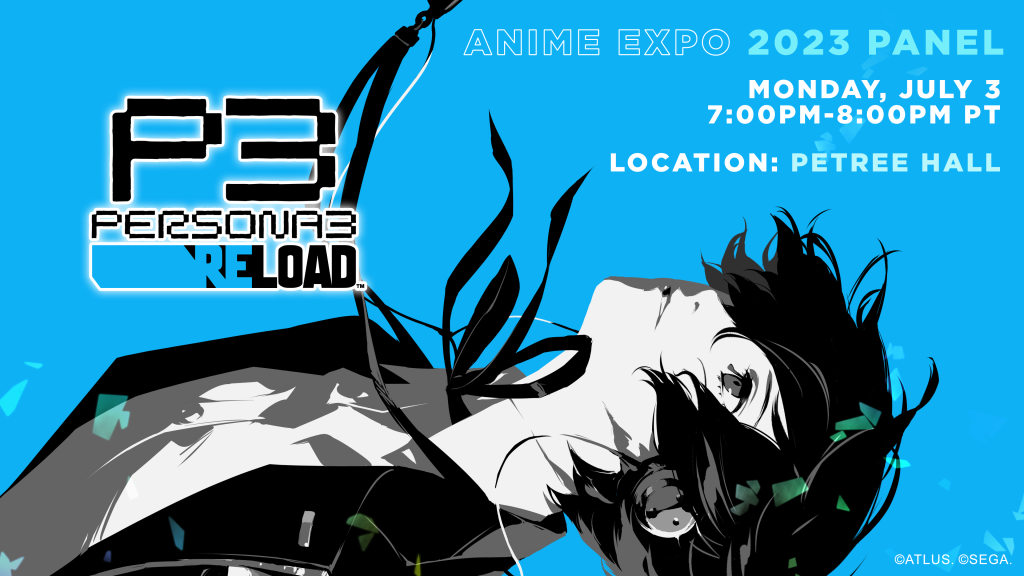 ATLUS Cosplay Meetup 
Meet up with other fans at the ATLUS Cosplay Meetup on July 1!  
Gathering begins on AX Day 1 (July 1) at 2:00PM-3:00PM at Cosplay Gathering Site 7.