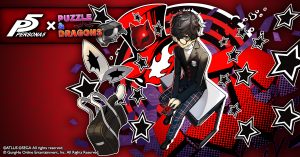 Persona and Puzzle & Dragons come together for a collaboration of epic proportions! Players must join forces with the Persona characters in an effort to defeat the shadows. This exciting collaboration includes a variety of familiar characters including Mitsuru Kirijo, Aigis, Teddie, Yosuke Hanamura, Makoto Niijima, and more. As a special treat, Persona 5's treasure-hungry companion Morgana will be exclusive through the Monster Exchange!
You can take a ride through Mementos in the new Persona collab dungeon and fight memorable creatures from the Persona series such as Jack Frost and Pixie.  Dungeon bosses Twin Wardens: Justine & Caroline will be waiting to give unsuspecting inmates a final examination of their rehabilitation!
All players who participate during the event period will receive one free pull at the Persona Memorial Egg Machine for a chance at receiving a rare collab character. There will also be a special Persona Egg Machine limited time bundle for the equivalent price of 1 Magic Stone.
Don't change that channel, because we're just getting started! Visit the Puzzle & Dragons official website for more information about the game: https://www.puzzleanddragons.us/