A perfect treat to share with friends! Tomi Kisaragi's favorite strawberry crepes are packed with delicious strawberries and creamy filling!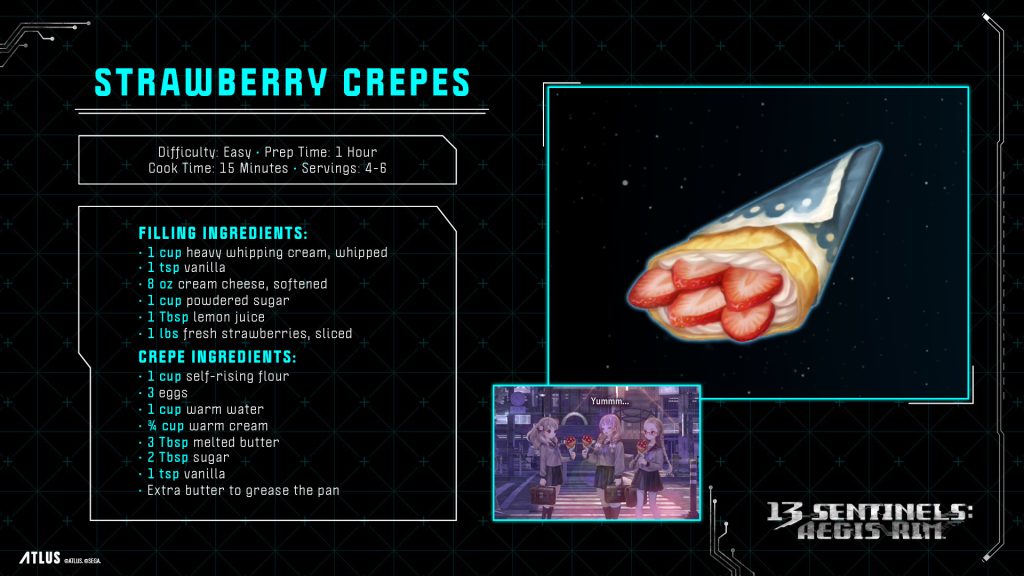 Ingredients
Cream Filling:
1 cup (230mL) Heavy Whipping Cream
1 tsp (5mL) Vanilla
8 oz (230g) Cream Cheese, softened
1 cup (130g) Powdered Sugar
1 tbsp (15mL) Lemon Juice
Pastry Bag (optional)
1 lbs fresh (450g) Strawberries, sliced
Crepe:
1 cup (125g) Self-Rising Flour
3 large Eggs
1 cup (230mL) warm Water
¾ cup warm (180mL) Heavy Whipping Cream
3 tbsp (45mL) Melted Butter
2 tbsp (25g) Sugar
1 tsp (5mL) Vanilla
Extra Butter to grease the pan
Preparation
Filling Instructions:
In a small bowl, whip the cream with vanilla until peaks form. Set aside.
In a medium-sized bowl, beat cream cheese, powdered sugar, and lemon juice until smooth. Fold in the whipped cream you had just set aside. Make sure you don't overfold it, you want to keep it light and airy. 
Scoop all of your cream filling into a pastry bag. It isn't necessary but it'll make it look beautiful when you pipe it into the crepes. If you don't have a pastry bag, you can just use a plastic bag for now (you'll just have to cut off one of the corners of the bag to squeeze it out later). Set aside in the fridge.
Prep your strawberries by washing them, cutting out the stems, and slicing them into whatever shape your heart desires. Once they've been prepped, add them to the fridge as well. You'll love the contrast between cool filling and warm crepes!
Crepe Instructions:
Combine all of the ingredients in a blender and briefly mix for 10 to 15 seconds until combined. (Don't overmix it, you want it to be pretty watery and without much developed gluten.)
Place the batter in the refrigerator for at least 1 hour. The longer it sits, the thicker it will get. If it gets too thick, you might have to thin it with some water.
Heat a small non-stick pan and fully coat with butter over medium heat. Make sure the butter doesn't burn.
Scoop out about a quarter cup (32g) of batter into the center of the pan and swirl to spread evenly across the bottom of the ban. 
Cook for 30 seconds (or long enough to begin to brown) and flip to the other side to cook for another 15. 
Remove the crepe and place on a wire rack to cool. The first crepe doesn't usually come out right but that's just the test one, so feel free to discard it and make another. Continue making crepes until all the batter is gone. 
Assembly Instructions:
Remove your cream filling and strawberries from the fridge. 
Place a still-warm crepe onto a plate and fold it in half. Now hold it in half again so it is a cone shape. If it is too warm, you might want to use a napkin to hold on to it.
Squeeze the cream filling into each crepe cone. (No matter how much I practice, I can never make it look as good as the street vendors seem to do it!). Garnish with strawberry slices, as many as you can.
Enjoy! You can return the leftover strawberries, cream, and crepes to the fridge. They'll usually stay good for a few days, you can even heat up the crepes in a buttered pan again!
13 Sentinels: Aegis Rim is now available on Nintendo Switch!