Of course, we couldn't highlight the food of 13 Sentinels: Aegis Rim without including the one, the only – Yakisoba Pan! This modern-day delicacy is the favorite of Takatoshi Hijiyama, and is a quick and delicious handheld meal!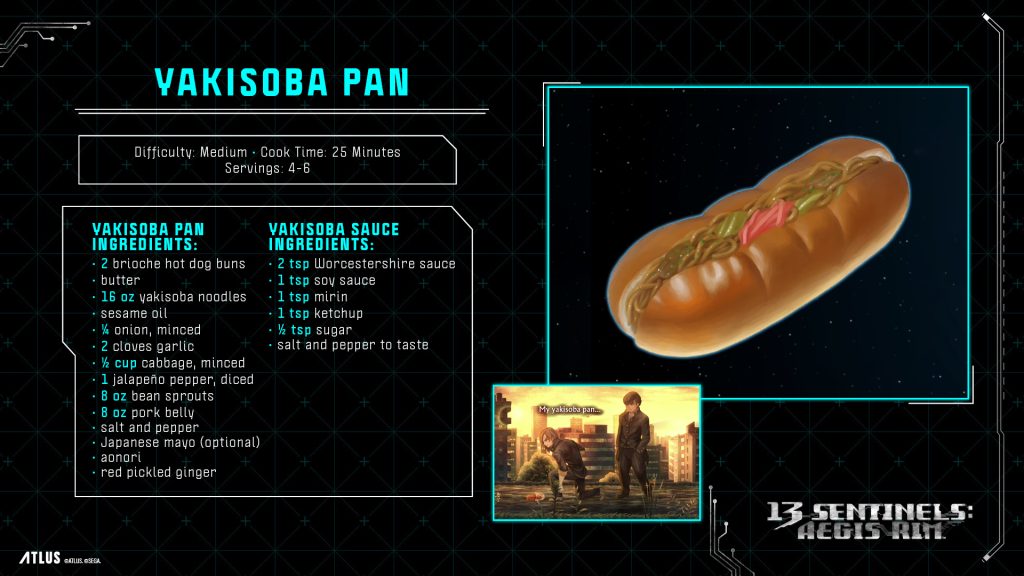 Ingredients:
Yakisoba Sauce:
2 tsp (10mL) Worcestershire Sauce
1 tsp (5mL) Soy Sauce
1 tsp (5mL) Mirin
1 tsp (5mL) Ketchup
½ tsp (4g) Sugar
Salt and Pepper, to taste
Fillings:
2 Brioche Hot Dog Buns
Butter (optional)
16 oz (450g) Yakisoba Noodles (rehydrated)
4 tbsp (60mL) Sesame Oil, divided
¼ (14g) Onion, minced
2 cloves (6g) Garlic, minced
½ cup (45g) Cabbage, minced
1 Jalapeño Pepper, diced
8 oz (230g) Bean Sprouts
8 oz (230g) Pork Belly
Salt and Pepper, to taste
Japanese Mayonnaise (optional)
Aonori
Red Pickled Ginger
Preparation
Yakisoba Sauce Instructions:
Put all ingredients in a small bowl and whisk together.
Add salt and pepper to taste.
Filling Instructions:
Cut the hot dog buns vertically along the top and butter the inside (you can even gently toast them in a pan on medium heat).
In a large pan or wok, add in 2 tablespoons (30mL) of sesame oil and gently fry the noodles until browned and slightly crispy. Season and toss with yakisoba sauce (homemade or store bought). Remove from the pan and set aside for now.
Add in 2 tablespoons (30mL) of sesame oil to the pan and stir fry the vegetables and meat, season with additional salt, pepper, and yakisoba sauce to taste.
Add the noodles back to the pan and toss together and cook for another minute or two.
Dish the yakisoba mix onto your buns, top with mayonnaise, aonori flakes, and red pickled ginger, enjoy as many as you can handle (which turns out to be a lot).
13 Sentinels: Aegis Rim is now available on Nintendo Switch!