They say everyone remembers their first, so as your friendly Atlus U.S.A. staffers ping-pong between packing up and recovering from E3 and getting ready for Anime Expo, I made them write about their first ATLUS game experience.
That said, I'll start off with mine so you can see the depths of my first "I have no idea what I'm doing" experience with an ATLUS title.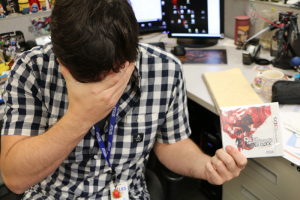 My very first ATLUS title was SMT: Devil Survivor Overclocked. I picked it up with no prior knowledge of SMT or Persona or fusion or anything else. I really got into it quickly, thinking "Oh cool, it's the start of the apocalypse!" "Oh cool, I can talk to and use demons to fight!" "Awesome, I have a death number over my head!" But things quickly took a turn. Fused everything I could recklessly and with no abandon. Consequently I learned that Elementals are NOT good party members. I wasted all of my money at the Demon Auction on useless demons and then got stuck when I had a party that couldn't win any battles and I'm pretty sure I had someone die the second day. Fortunately, those mistakes in DSO set me up for (relative) success in my second ATLUS game, Persona 3. – John H., PR Manager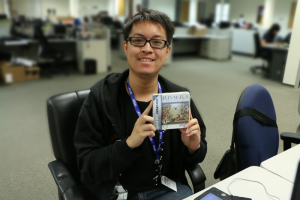 My first ATLUS experience was Riviera on the GBA (circa 2005), or at least the one where I knew it was published by ATLUS. I remember being really intrigued by the battle system, and really loved gaining levels by using weapons each character had affinity with. It was also my first game where your character had a sort of affection system with the other characters, so trying to earn the endings and CGs made replaying the game a blast. Seeing all the special attacks was also very cool and satisfying. Disaresta! – Justin P., QA Tester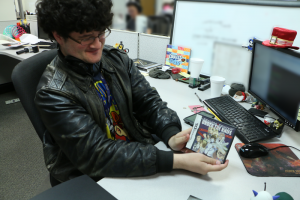 My first ATLUS game was probably the first Trauma Center, on the DS back in 2005. I've always gotten way, way too emotionally invested in random video game characters' well-being, so buying a game based around performing volatile life-and-death operations on them is potentially one of the stupidest decisions I've ever made. I didn't handle "Game Overs" too well. But when I DID save them, my hand locked into an aching stylus-claw, that was one of the first times I felt really emotionally rewarded by success in a game. (Except the Savato operation. That one was pure surgical rage.) – John M., Editor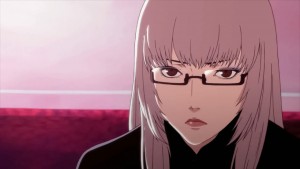 The first ATLUS game I played was probably Cubivore for the Gamecube (circa 2003). I don't remember much about it anymore though. I think the game had paper dogs mating with other paper dogs? Something about dogs eating rocks? First game I purchased from ATLUS was Catherine. It was also my first PS3 game. On my first playthrough, I ended up with Katherine even though I was hoping for the Catherine ending. UGH. – Anonymous Female Staffer #1
We'll get some more stories from our staff in the future, but if you've got a good story about your first ATLUS game experience, let us know in the comments!