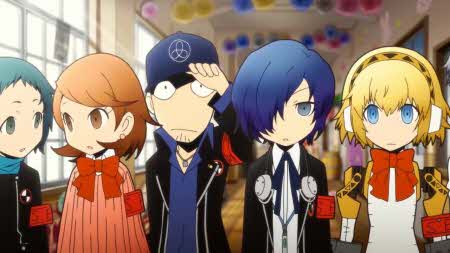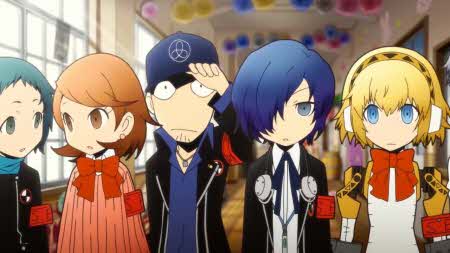 When Persona Q launched last year, a lot of ATLUS fans jumped right into it, never having played an Etrian Odyssey game before; the vast majority of which doing so for two reasons:
Well to those players, all we have to say is: you're through the looking glass now, since Persona Q was built on the Etrian Odyssey engine! Etrian Odyssey first landed on the DS back in 2007, and (with the exception of Etrian Mystery Dungeon) the franchise is renowned for its map-making, FOE-having, first-person turn-based combat. Oh, and its incredible difficulty – all stuff you may recall from Persona Q. Of all the games in the Etrian franchise, Etrian Odyssey 2 Untold, the upcoming remake for the Nintendo 3DS, has the most similarities to Persona Q – largely thanks to the quality-of-life improvements to the UI and system (ask veteran players about the original Etrian Odyssey for some true horror stories).
But the similarities don't end there! Just like Persona Q, Etrian Odyssey 2 Untold has three physical damage types (cut, stab, bash) for various characters' melee attacks. There's actually one LESS elemental damage type to deal with – Etrian only has Fire (Agi), Ice (Bufu), and Volt (Zio) damage. No Wind (Garu) elemental damage to worry about. For the sticklers out there, both games do have Almighty (Megido) damage, but that's not really an elemental type, now is it? Binds are also similar, with Head Bind, Arm Bind, and Leg Bind all being analogous to Magic Bind, Strength Bind, and Agility Bind.
The usefulness of Rise and Fuuka as your personal navigators in Persona Q is replaced by Regina's Café. By selecting a certain dish, players can get buffs that last the entire labyrinth – from HP recovery to ailment resistance, you're going to want to make sure to keep the Café fully stocked with ingredients!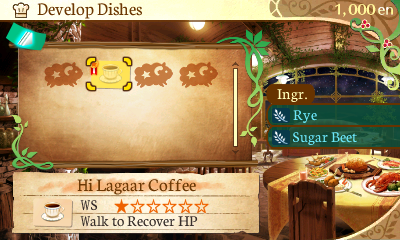 One of the most awesome combat systems from Persona Q was letting everyone in your party equip a Sub-Persona to allow for alternate skills to be used. Etrian Odyssey 2 Untold has the same thing, but they're called Grimoire Stones. Every character has a chance to unlock a Grimoire Stone during their turn (denoted by a nice large "GRIMOIRE CHANCE!" graphic – you can't miss it) so it's possible to get multiple during a single fight (my record is 13, btw). The Grimoire Stones are locked in both level and skill, but similar to Persona Fusion in Persona Q, you can trade your Grimoire Stones with other travelers or even choose to recycle Grimoire Stones to put its fate in the hands of RNGesus. (I have gotten a lot of unhelpful Grimoires through recycle, but the lvl 9 Grimoire that replenishes TP by walking around makes it ALL worth it.)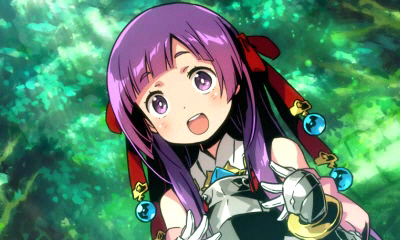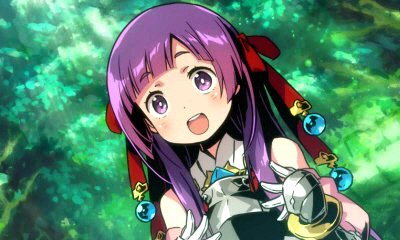 There are a few similarities with Etrian Odyssey 2 Untold's classes and Persona Q's classes – Yukiko for instance is similar to the Alchemist with her strong magic attacks; Ronins have lots of physical damage like Kanji, Chie, and Akihiko; physical ability builds for P3MC and P4MC are similar to Landsknechts; Troubadours have plenty of support skills like Zen/Rei did; and Bertrand/Protectors are similar to Aigis with their similar shield abilities (no Orgia mode though). But there's plenty of classes to choose and experiment with!
The biggest separation between PQ and Etrian games is probably the skill trees. Whereas the main Personas would level up and gain new abilities in a pre-determined way, Etrian Odyssey gives characters the leeway to select new skills or enhance existing ones with each level gained. But while it may seem daunting at first, the EO2U skill trees are pretty logical and there's lots of synergies to exploit between classes. One of my personal favorites is using a Dark Hunter's Sword Mastery skills to apply an ailment (Confuse/Paralysis/Sleep) and then use the War Magus's War Edge skills to reduce an enemy's Attack and Defense for 7 turns. Then unload on the enemy with every ounce of DPS while they're debuffed. Works wonders! Not liking a particular build? Just rest a character in the Explorer's Guild to reset the skill point distribution (at the cost of two levels)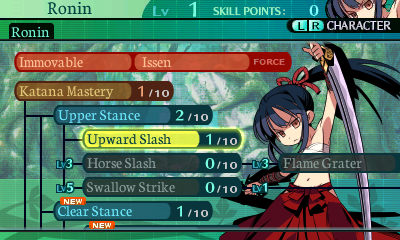 So go forth, with your newfound Etrian skills and brave the dungeons of the Yggdrasil Labyrinth!
(Oh, and if you're reading this now, Persona Q is on sale for $20 off at most major video game retailers)