It's a universal truth that music makes everything better.  Whether it's riding a bike, cooking a meal, or putting together yet another power point presentation, music only positively enhances the task at hand. In my opinion, gaming is no different. While most games have rousing soundtracks that have been composed with love and care, sometimes the in-game music just isn't enough.
Thankfully, we've got you covered for all the gaming you'll be doing over the holidays. We present to you the greatest Spotify music playlist ever created, ATLUS Mixtape Vol. 1. Simply create a Spotify account (it's totally free) and you can listen to the playlist via the online web player or by downloading the application. You can also search for the user atlus_will and find the playlist there.
How did we come up with this eclectic playlist you ask? Well, I went around and asked some ATLUS staff what kind of music they listened to when playing games, and they provided me a nice long selection of music.  Check out what they have to say about their choices below.
Oh, and let us know what songs you game to. If we like it we'll add it to the playlist!
EJ R., Community Associate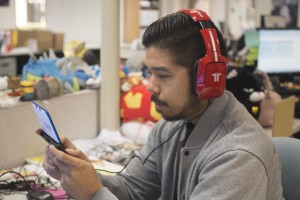 So I like playing action adventure games. So I like to listen to music that gets me pumped so it keeps me motivated while I play the game. Usually that is music that has a fast pace or lyrics that have some motivational phrases in it. My playlist is a combination of rock, electronic and rap. It's always pretty awesome when you reach an achievement in a game and the music playing in the background just matches it real well.
Yellowcard – "Breathing"
Eminem – "Till I Collapse"
30 Seconds to Mars – "Attack"
Fort Minor – "Remember the Name"
Linkin Park – "Faint"
Ann N., Promotions & Marketing Associate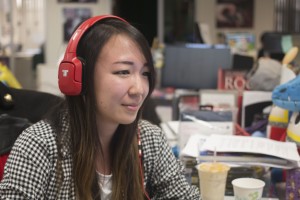 I like listening to songs that generally have a good beat with minimal lyrics, or songs that are in foreign languages that I don't have a good comprehension of.  This makes it easier for me to meld my mind to the task at hand, aka whatever game I may be playing at the moment.
Ratatat – " Lex"
Glitch Mob – "We Can Make The World Stop"
The Chemical Brothers – "Swoon"
Emilie Simon – "Fleur De Saison"
Camille – "1,2,3"
Will C. PR Associate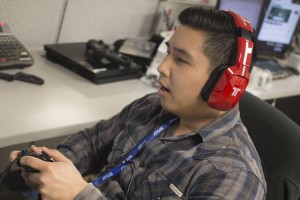 When I play an FPS, MOBA, or a certain game that involves boosty rocket cars, I not only need to win, but I need to utterly decimate my opponents.  Because of this, I must have a soundtrack that puts me in the mindset of a champion.  My gangsta rap/electronic music filled playlist is the perfect accompaniment to the hell I unleash upon my enemies. I just can't lose when I'm listening to Killer Mike and El-P spit hot fire or when Disclosure lays down a hypnotic beat.
Run the Jewels – "Oh My Darling Don't Cry"
Ludacris – "Call Ya Bluff"
Aphex Twin – "Windowlicker"
Disclosure – "When A Fire Starts To Burn"
Calvin Harris – "C.U.B.A."
Carl C., QA Manager / Asst. Biz Dev Manager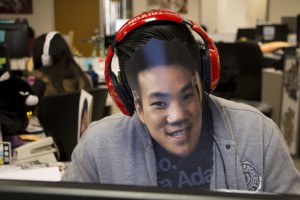 I rarely listen to music when playing games, so I thought about what music I'd hypothetically play if I was streaming on Twitch. Since the only competitive game I play these days is Hearthstone (a generally slow paced game), I'd probably want something that gets the brain juices flowing while not being too distracting. These songs capture the sound I'd be going for: soulful hip hop, nu-disco, 80s electropop, EDM, and something silly/random. Word life!
Common – "Be (Intro)"
Breakbot – "Baby I'm Yours" (feat. Irfane)
Kavinsky – "Nightcall"
Nitro Fun – "Soldiers"
John Cena & Tha Trademarc – "The Time Is Now"
Elwood C. QA Lead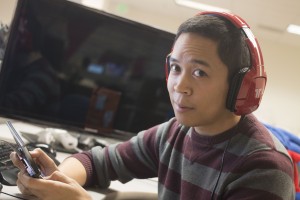 Being a huge music enthusiast, I constantly have music playing whenever possible, and I make no exception when I'm gaming. Since I almost exclusively play RPGs in my spare time, I prefer listening to music that compliments those types of games. This includes a lot of atmospheric and multi-layered instrumentals that capture the feeling of exploration and adventure. I also like intense and reflective songs that match the different emotions one will experience in a typical character-driven RPG. My playlist consists of a collection of songs that show up regularly in my musical rotation.
Clint Mansell – "Welcome to Lunar Industries"
PJ Harvey – "Rid of Me"
Chelsea Wolfe – "Carrion Flowers"
Kate Bush – "Sunset" (Unfortunately, Sunset isn't on Spotify, but here is a YouTube link)
Frederic Chopin – "Nocturnes, Op. 9: No. 2 in E-Flat Major"
John M., Editor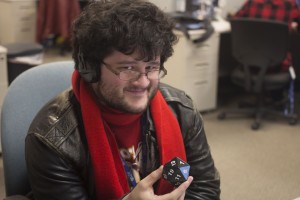 So I run a couple D&D campaigns in my off time (and if my coworkers had their way, a couple at work on my breaks), and music curation is one of my favorite parts of the whole process. The perfect track can make any encounter better, whether it's a plot-crucial boss fight or just having the party hang out and speculate about their next move. I've generally found that the same thing goes for video games. Having the right musical support just makes you play better. I mean, that's like the entire concept of the bard class, right? Inspiration through the right musical selection. Or it can just get you more immersed in whatever you're doing, which is frankly better than improving your performance. Anyhow. That's enough justification outta me. Apologies in advance for wild veering between swing, death metal, and dubstep.
Caravan Palace – "Brotherswing"
Big Bad Voodoo Daddy – "Mr. Pinstripe Suit"
The McMash Clan, Kate Mullins – "Swing Break"
Blue Stahli – "Armageddon"
Rodrigo y Gabriela – "Diablo Rojo"
DJ Okawari – "A Cup of Coffee"
John H., PR Manager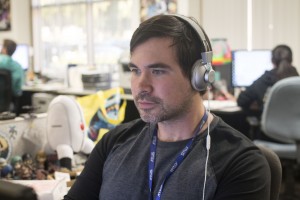 I'm going to throw a wrench in Will's plans for the ATLUS playlist by adding a dash of punk/metal to what I assume is going to largely be ambient/trance tracks from the rest of staff (I hope he's put a limit on how many Kavinsky tracks are on it). Personally, if I'm rolling around a world in an RPG or trying to desperately land skillshots in a MOBA, there's just something instinctual about cranking up songs that remind me of high school, which were largely dominated by the aforementioned punk/metal. I know it may not make sense, but as I settle into the groove of putting long stretches into a game, I need something that keeps me amped!
Radiohead – "Just"
Mastodon – "Blood and Thunder"
Bass Drum of Death – "For Blood"
Pissed Jeans – "False Jesii Part 2"
Jay Reatard – "It's So Easy"
Sam H., Bilingual Localization Specialist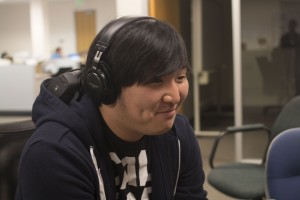 I grew up playing fighting games. Most of my free time during my childhood was spent in arcades playing many renditions of King of Fighters among other fighters and arcade games. When I became more serious about playing fighting games competitively, I had to find a way to drown out the background noise of everyone around me, as well as other games being played around me, since the scene was mostly in arcades. I preferred to listen to songs that had strong beats to help me with the timing of performing combos, and that grew into my current trend of listening to music while playing games. There is an exception though – if I'm playing an RPG, I'll be listening to the in-game music rather than listening to my own playlist composed of many Japanese and Korean artists, including but not limited to CAPSULE, Perfume, Kyary Pamyu Pamyu, Shiina Ringo, SEKAI NO OWARI, Nell, IU, Seo Taiji, Infinite, VIXX, Orange Caramel, Clazziquai, MONSTAX, Big Bang, Gain, Brown Eyed Girls, f(x), etc. Not all artists I listed are found on Spotify, but here are some songs to get your feet wet in J-POP/kPop.
CAPSULE – "Unrequited Love"
Infinite – "Bad"
VIXX – "Eternity"
Perfume – "One Room Disco"
Clazziquai Project – "Lover Boy"
Chris H., Editor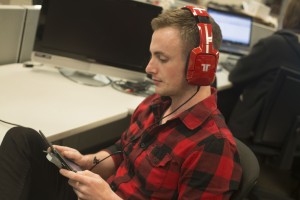 Black Rebel Motorcycle Club and The Dead Weather were in conversation during my playthrough of Dragon Age: Inquisition. The bulk of their discography accompanied me throughout Thedas, but these two songs in particular probably saw more plays than any other. Partly because they're two great tunes, and partly because I think they resonate thematically with the gray space that is Dragon Age's moral spectrum.
"Heads Will Roll" and "Mercenary," meanwhile, are two sides of the same coin. I've thrown both tracks on loop for two separate first-person shooter MP marathons. "Mercenary" became my song of choice during a long stretch of Titanfall obsession, while "Heads Will Roll" scored countless Call of Duty: Advanced Warfare multiplayer sessions. It's hard to resist the allure of playing upbeat, pop-y music while pouring boxes of bullets into other players.
The Yeah Yeah Yeahs also make for great RPG grinding music while you're running in circles and willfully committing animal cruelty.
As for A Tribe Called Quest's "Scenario"? Well, it's just one of the dopest tracks to drive to whenever a game offers you vehicular alternatives for traveling.
Black Rebel Motorcycle Club – "Beat the Devil's Tattoo"
Yeah Yeah Yeahs – "Heads Will Roll"
Crystal Castles – "Mercenary"
The Dead Weather – "Hang you from the Heavens"
A Tribe Called Quest- "Scenario"
Amy S., Graphic Designer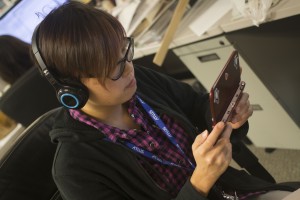 I generally like to listen to upbeat, catchy, fun music when I'm playing games. I love really tacky 90s dance music and pop/rock; it energizes me, pumps me up. Listening to this stuff keeps me happy if I don't do so well, and it's good victory dance music if I win!
La Bouche – "Be My Lover"
Technotronic – "Pump Up The Jam"
Queen – "Don't Stop Me Now"
Mark Ronson feat Bruno Mars – "Uptown Funk"
Hall & Oates – "You Make My Dreams"